Interoperator business
More than 1000 implemented cases
Cooperate with more than 500 telecom operators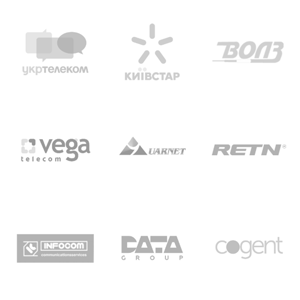 Міжоператорський бізнес
We cooperate with more than 500 telecom operators and Internet providers in Ukraine and in other countries.
We are constantly expanding our network. Currently, more than 115 GigaTrans technical platforms are established throughout Ukraine. We are also present in UA-IX, the largest Ukrainian traffic exchange point, GigaNet and international DECIX. All this gives our team the opportunity to connect customers and partners in any city, region and even geographically remote areas.
For more than 16 years of presence in the telecom market, our team has successfully implemented more than 1,000 business cases for clients, including leading players in the financial sector, retail, service sector companies, real estate developers, retail chains, medical sector companies and others.
Cooperation with telecom operators and Internet providers is carried out in such services as renting fibre, data transmission channels and providing Internet access. Main partners of GigaTrans include such companies as Intertelecom, Data Group, Ukrtelecom, Kyivstar, Retn, Uarnet, Cogent Communications, Vega Telecom, Intraffic, Undernet, Protelecom, Citic Telecom, VOLZ, Infokom, Netassist, Tsyfra and others.